We are a bit nostalgic so we decided to share the very first mobile game we created here on fancy-factory.com: Freddy the kitten 😊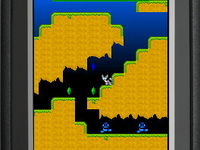 It must have been around the year 2004 when we coded this little jump-and-run for Nokia S60 devices. Well. its more a tech demo to evaluate the then-new platform Symbian for us. Nevertheless it was a very interesting and fun project.
Do you still own an Nokia Symbian S60 phone? Then DOWNLOAD the game for free and enjoy this adventure. 😺
Jump around the dungeon, kill the blue monsters and collect all keys to unlock the next level.
And NO – you can not enlarge these screenshots…that was the top resolution at the time! 😀😀